WandelBal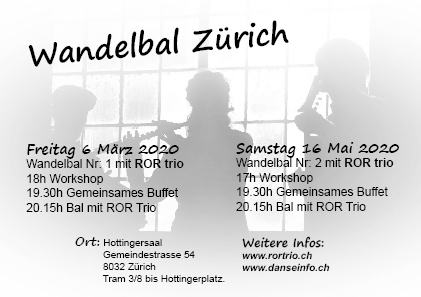 The ROR trio is changing: New ideas, creations and wishes are sprouting...
This is how we would like to bring the format of the WANDELBAL to life:
The Wandelbal is a place of social encounter in dance and cultural
Exchange. A (meeting) platform by and for people who want to live a good life together and are interested in a sustainable, more peaceful future.
A stage not only for musicians, but also for great projects that want to be shown. Art, projects in the field of sustainability, or simply the presentation of interesting, new ideas etc.
A dance floor for people who feel a responsibility to move for a better, fairer society. And all this with pleasure, joy and optimism!
For us as a trio, we would like to have a nice space to try out new ideas, to make our music sound and to come into meaningful exchange and encounter - with familiar people from the Bal Folk scene, and with new faces.
A room where you can feel comfortable, free and a little bit at home...
Would you like to present a project, an idea? Then write us an e-mail to mail@rortrio.ch
---
Programm 6.3.2020:
18h-19.30h workshop:
VIRA we will dance 1-2 Viras from Portugal and different
SCOTTISH variations and enjoy playing with the room.
For beginners and experienced.
19.30h Common buffet - bring your speciality
20.15h Bal with ROR Trio